RAZORBACK ATTACK...PART 666!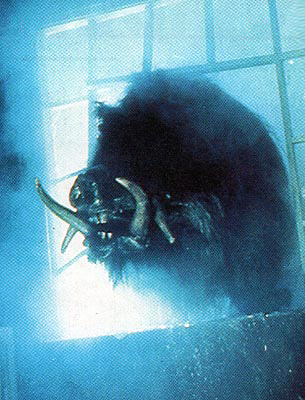 ARRGGGHHH!!!! Lots of great new stuff is coming up from the horror HIVE, but...I can't really mention any of it yet! Trust me though, some really insane stuff is in the works and I haven't been this excited in a long time. There's stuff happening that is gonna BLOW everything away! Look for some special announcements SOON!

My original vision of this label being a total HORROR/GORE worshipping METAL label is still the same, and the stuff planned stays 110% true to this concept and will NOT be compromised! While other people give up on horror, make fun of it, or say they're "bored" with it... we embrace it even more and take it to the next level of enthusiasm with NO regrets or shame!

Maniac Neil is busy finishing up the recordings for the BLOOD FREAK "Multiplex Massacre" CD and promises us his BEST release EVER! Woah! He told me it's like a mixture of the recent new FRIGHTMARE and BLOOD FREAK releases all in one. Crushing, catchy thrash meeting heavy as fuck oldschool death metal/grind and slow, doomy, Autopsy-style stuff! Expect the usual incredible production and sound as well!

FONDLECORPSE has finished all 5 of their songs for the upcoming split CD with FRIGHTMARE, and as you can hear from the new mp3 posted on their myspace page, this is a band not to be fucked with! It brings me great delight to finally release new music from the best kept secret in underground death/gore metal music! This release will also set the stage for the band's long-awaited full-length album, "Creaturegore", which is already in the works! Stay tuned for more info on the split CD and album soon!

IMPETIGO "Horror of the Zombies" re-issue will come out in the Spring of 2007 to coincide with the band's 20th year anniversary! It's incredible to see the band get back together for a reunion show next Summer. I still can't believe it's really happening. Without IMPETIGO, there simply would be NO Razorback Records, end of story! After the total failure of the Razorback Records fest, this reunion show for IMPETIGO more than makes up for it and I will definitely be at this show ready to headbang to "Dear Uncle Creepy" with devil horns high in the air and all that shit! haha!

Don't forget the LORD GORE represses, and lots of top secret stuff I mentioned earlier. 2007 is gonna be one hell of a year for Razorback. A new era begins!